MEET THE OWNER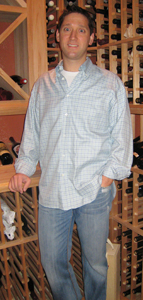 Bryan J. Freel, JD, CPA
Bryan J. Freel is the founder, manager and owner of Vine Properties. Bryan has engaged in land development, home building and real estate brokerage for 10 years. Bryan began developing and building custom homes in Hinsdale, IL in 2003. These projects generally have been luxury custom home projects between $1.2 million and $3.0 million, but have also included a variety of remodeling and refinishing projects along with a specialty in developing custom wine cellars.
Prior to entering the real estate development and home building industry, Bryan was a Senior Manager with Deloitte, focusing on merger and acquisition tax due diligence. Bryan also worked as a Senior Manager at KPMG LLP focusing on structured finance, strategic tax consulting and merger and acquisition structuring. Bryan also spent over five years with the law firm of Fagel Haber LLC, splitting time between their tax and corporate departments.
Bryan received his B.S. in Accounting from Marquette University in Milwaukee, Wisconsin and his J.D. from DePaul University in Chicago, Illinois. Bryan is also a licensed real estate broker and a CPA with over 13 years of professional accounting and legal experience. Through his professional business experience as an attorney and a certified public accountant Bryan is uniquely positioned to provide the level of personal service, detail oriented project management, and courteous and professional home building or remodeling experience today's clients demand…and often times do not receive in the construction industry.